SpaceX's colossal Falcon Heavy may finally fly today
"I would really like to emphasize that the odds of success are not super high."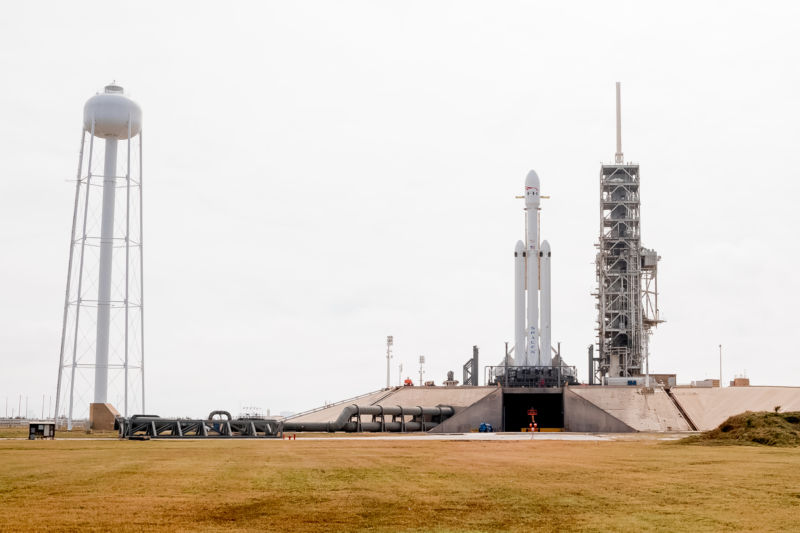 A view of the SpaceX's colossal Falcon Heavy rocket on Monday, from one-quarter of a mile away.
Watch live: SpaceX's colossal Falcon Heavy may finally fly today.
KENNEDY SPACE CENTER, FLORIDA—Today may finally be the day. After nearly a decade of development, the Falcon Heavy has finally reached the launch pad and undergone all of its preflight tests. All that remains is to fuel the three boosters and light 27 engines.
Weather at the launch site is fine today, with mostly sunny skies and light winds. The official forecast calls for an 80 percent chance of favorable weather conditions at the time the launch window opens at 1:30pm ET. (UPDATE: The opening of the window has been delayed until 2:50pm ET due to upper-level wind concerns. The launch window closes at 4pm ET.)
Plenty of things can go bad with the maiden flight of a rocket, of course. That is especially true considering the Falcon Heavy's structure—three boosters strapped together. In an interview with Ars on Monday, SpaceX founder Elon Musk said the company had tested as much as it could on the ground. But certain elements can only be tested in flight.
"There's a lot that could go wrong," Musk admitted. "A really tremendous amount. I would really like to emphasize that the odds of success are not super high. I don't want to jinx it—I'm tempted to say. Because I feel super optimistic. But I feel as though that optimism has no basis in fact. I feel like we've got a two-thirds chance of success, but in reality we only have a 50-50 chance."
After the launch, presuming the rocket makes it into orbit, SpaceX will attempt to land the two side boosters at Landing Zone One. These landings should occur nearly simultaneously, at 7 minutes, 58 seconds after launch. The central core of the rocket will stay attached to the payload for a bit longer and then separate as well. If all goes well it will land on the "Of Course I Still Love You" drone ship at 8:19 into the flight.

This will not be a launch to miss. While certainly a scrub is possible—much could derail the fueling process that will begin about 90 minutes before launch—a rocket this powerful has not launched from Earth since the final space shuttle flight in 2011.
After the Falcon Heavy booster lifts off, the second stage will take over at 3 minutes and 15 seconds. It will burn again at 28 minutes and 52 seconds, which should place the second stage and its Tesla payload on a six-hour coast to a much higher orbit. After that time, if all goes well, the second stage will fire for a third time to send the Tesla on a precessing Earth-Mars elliptical orbit around the Sun. Musk said the vehicle should get as far as 380 million to 450 million km from Earth, depending on how the third burn goes.
The webcast below should begin about 20 minutes before the launch window opens. We will update this story as conditions warrant.
The Falcon Heavy launch