Woman complains about swimsuit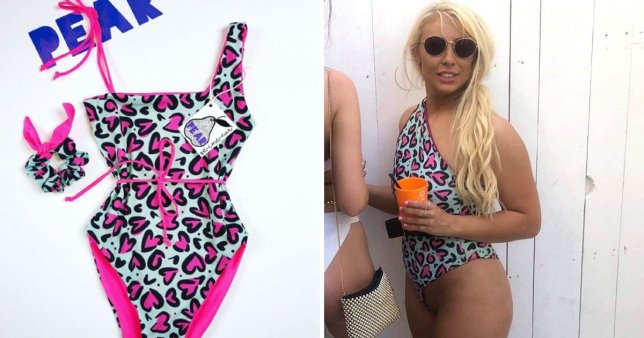 Woman complains about swimsuit. Some swimsuits are pesky little things, with their strings and frills. But usually, you can tell them top from bottom.
Woman complains about swimsuit
Unfortunately for one wearer from Glasgow, Scotland, it was hard to distinguish and she went out into the world wearing her swimming costume upside down.
And to add to the blow, 20-year-old Lyndsey Brown only realised in the middle of her complaint to the supplier Pear Swimwear.
To be fair, the fashion branding student did wear it the right way around at first but after a quick trip to the toilet following a few drinks, was unable to put it back on properly.
But Lyndsey and her mates, who were on a girls' trip to Ibiza, had a good laugh about it.
thank god lyndsey got chucked out ocean after this pic.twitter.com/br28wBoMJi — emma (@emmmamilroy) June 29, 2019
Facebook and Twitter where people found it hilarious
The picture of Lyndsey wearing the one-piece incorrectly has done the rounds on Facebook and Twitter where people found it hilarious.
In the screenshots, Lyndsey could be seen complaining to the brand, directly messaging their Instagram page. She wrote: 'I wore that swimsuit today. And it's stretchy like anything. I only wore it for a couple of hours.
'My vagina was hanging out constantly. Is it meant to stretch like that? This is what it was like. It was so bad and embarrassing.'
A spokesperson for Pear Swimwear replied to the woman complains about swimsuit: 'I've had a look at the picture you have sent and believe you are wearing it upside down.
'The thinnest part of the swimsuit will be the strap which sits across your shoulder. I hope this helps.'
They then attached an image of the outfit being worn by a model the correct way.
I went to Ocean Beach wearing the swimsuit in perfect condition and the CORRECT way – had too much fun with alcohol, went to the toilet a few hours later and put my swimsuit on upside down WITHOUT KNOWING. I then got kicked out after this for being a lightweight NOT a tramp xxx — Lyndsey 🖤 (@lyndseybrown_) June 30, 2019
After having the mishap all cleared up, Lyndsey said she was 'howling' at the thought of wanting a refund from Pear Swimwear.
Others online had a hoot too, quipping 'at least you never had a Jackson Five bush on display'.
True. But hey, there's nothing wrong with a bit of pubic hair.