Eminem Blast Donald Trump Supporters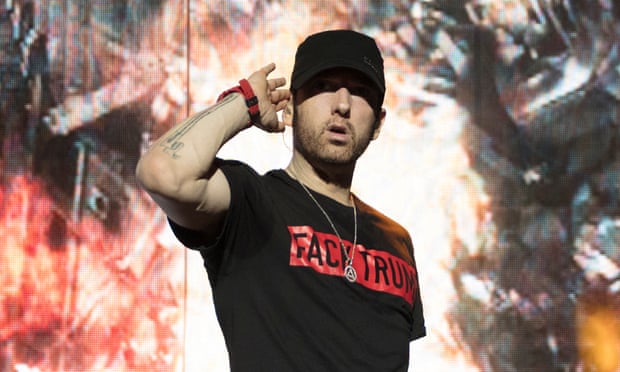 Hear Eminem Blast Donald Trump Supporters on New LP Tease 'Campaign Speech'
Eminem blast Donald Trump and also other artists.
Rapper also references Trayvon Martin, Colin Kaepernick over minimalist synth drone on eight-minute track
Eminem disses Donald Trump and his supporters, references everyone from Trayvon Martin to Colin Kaepernick to David Hasselhoff and unleashes a dizzying assault of rhythmic gymnastics with "Campaign Speech," a nearly eight-minute new track posted online Wednesday. "Don't worry I'm working on an album!" the rapper tweeted, linking the song. "Here's something meanwhile."
The track includes the Trump attack, "Consider me a dangerous man/ But you should be afraid of this dang candidate/ You say Trump don't kiss ass like a puppet?/ 'Cause he runs his campaign with his own cash for the funding?/ And that's what you wanted?/ A fuckin' loose cannon who's blunt with his hand on the button/ Who doesn't have to answer to no one?/ Great idea!"
The rapper also takes aim at the candidate's supporters. "Run the faucet / I'm a dunk a bunch of Trump supporters underwater," Em flows at one point over minimalist swabs of synth. "Snuck up on 'em in Ray-Bans in a gray van with a spray tan." Elsewhere, he throws out one-liners like "stegosaurus, Chuck Norris with a thesaurus" and "Robin Thicke with a throbbin' dick."
David Duke, the former Imperial Wizard of the Ku Klux Klan and Louisiana senate candidate, weighed in on the song, saying that the rapper has been "poisoning the minds of our youth." He also called him a "puppet of [manager] Paul Rosenberg and [Interscope co-founder] Jimmy Iovine," using a set of three parentheses, a common mark among the Alt-Right to denote Jewish people.
Eminem is a puppet of (((Paul Rosenberg))) and (((Jimmy Iovine))) – For years Eminem has been poisoning the minds of our youth. #rigged pic.twitter.com/xECYJ0HBsK

— David Duke (@DrDavidDuke) October 19, 2016
The opening blitz is one of the rapper's most limber in years: "Jumped out of the second floor of a record store/ With a Treacherous Four cassette and a cassette recorder," he rhymes. "In Ecuador with Edward Norton/ Witness the metamorphosis of a legend growing/ Like an expert swordsman from the Hessian war and/ Hence the origin of the Headless Horseman/ Born with the endorphins of a pathetic orphan."
As Mother Jones noted in August, Trump and Eminem weren't always adversaries. In 2004, Eminem threw a party to promote his recently released Encore album and the launch of Shade 45, his channel on SiriusXM. The candidate made a surprise appearance to extol the rapper. "When the Shady Party called and told me there's going to be a convention, I said it's got to be a really big one—and it's got to be right here in New York," Trump said. "Because this is the best city anywhere in the world. Am I right? Of course I'm right. I'm always right — I'm Donald Trump, I'm always right. I know a winner when I see one, and Donald Trump is telling you right now, Slim Shady is a winner. He's got brains, he's got guts, and he's got Donald Trump's vote!"
Eminem released his last solo album, The Marshall Mathers LP 2, in 2013. He recently guested on and produced frequent collaborator Skylar Grey's single "Kill For You," and over the summer, he made a surprise appearance during Drake's Detroit show to perform their joint 2009 hit "Forever."