Norton Secure VPN Review – All You Need To Know
Norton Secure VPN is one of the most popular VPN services today. Let's take a look at how it bridges the security gap between your devices and the internet. By using protected connections, you can access blocked sites and services while ensuring that your identity and privacy remain intact.
This ensures you can enjoy unfettered access to the web as it should be, without unnecessary risks and restrictions. For all those concerned about their online privacy, Norton is a VPN service worth checking out.
What is a VPN?
The term VPN (Virtual Private Network) usually refers to a system of networks and devices that allow you to mask your true IP address while surfing the internet. Though this system of proxy networks and encryption has been used by millions of users, it can be used by anyone willing to pay for it, there are also free versions but they have a lot fewer features.
This is why it is essential to understand how it works and what it can be used for. Most people use their smartphones to connect to the internet through a VPN service or they use a virtual private network (VPN) app on their computer to access blocked websites.
The latter is more secure as it encrypts your data and hides your true IP address while using public Wi-Fi networks that ISPs can sometimes monitor.
Why do I need a VPN?
Your internet connection is like a tunnel that takes you somewhere else. When you turn on your computer or smartphone, your data travels through this tunnel and arrives at its destination; on the other side, it is encrypted. If an unauthorised person gains access to your computer or mobile phone, they can do anything they want with your data—turn off your internet connection, obtain your credit card numbers, etc.
But how can you be sure that something like that won't happen? How can you protect yourself against such an attack? VPNs provide a layer of security that hides your true IP address and makes it possible for you to communicate with others securely across different public networks (such as the internet or WiFi) without risking your identity or privacy.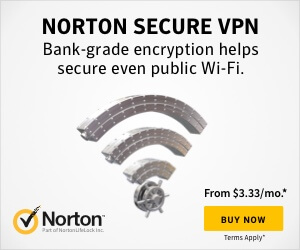 How does Norton Secure VPN work?
Norton Secure VPN is free software that enhances your security on your computer and network. It provides you with a private, encrypted network that prevents others from viewing your online activities. It also improves the performance of your web browser by sending less data to third-party monitoring servers.
You have the option to choose between three different levels of service, with the higher ones offering more extensive features. The free version of the program allows you to browse the Internet as if you were at home or abroad.
However, if you would like additional protection while surfing the Internet, then you should upgrade to the full version of the software.
Why I should buy Norton Secure VPN?
Norton is one of the pioneers in privacy-protecting software and offers one of the most complete and easy-to-use VPN solutions available. If you want to hide your IP address while surfing the internet, then Norton's Secure VPN is what you need.
The company claims to have more than 45 million active users worldwide with more than 35,000 new customers joining every day. Get more information about this top product from its Official Website Here